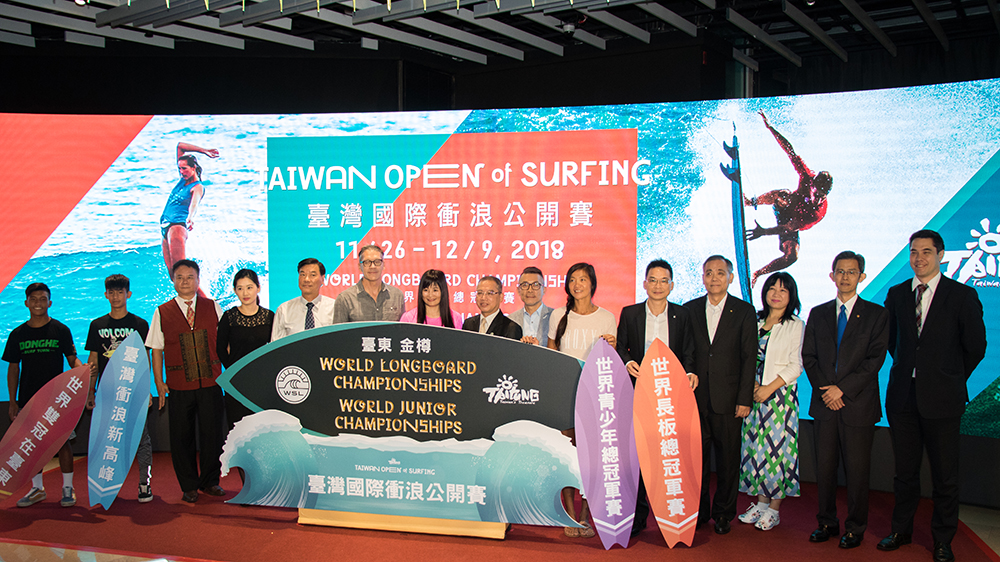 01 Nov

2018 Taiwan Open of Surfing: the First Double World Championships
The must-watch world class surfing event awaits you at Jinzun
Jinzun, Taitung is hosting the 2018 Taiwan Open of Surfing from November 26th to December 9th. The competition has become more remarkable year on year and after being selected by World Surf League (WSL) as the venue for "World Longboard Championships", Jinzun has raised its standards and is hosting "World Junior Surfing Championships". This is the first time Taiwan is hosting "Double World Championships" and it is also the first time that there are two world championships taking place in the same venue since the establishment of WSL. Hence, it is another peak that Taitung managed to attain after hosting the Taiwan Open of Surfing for 8 consecutive years.
Since first hosting the competition in 2011, Jinzun, Taitung has emerged from a stop of the tour to the host city for the "Double World Championships". The status of Taitung in the international surfing scene is incomparable to before. This highly anticipated "Double World Championships" will bring the top surfers in the world to Taiwan. The past WSL junior champions such as Joel Parkinson, Gabriel Medina, Jordy Smith, Sally Fitzgibbons and Laura Enever are currently the top surfing stars. The 2018 Taiwan Open of Surfing has invited overseas surfers to challenge their limits on the waves in Jinzun, Taitung. There will also be a domestic category which includes the woman and man longboard surfing, man shortboard surfing, group longboard, and shortboard surfing.
With its unique coastal terrain and low latitude geographical location, Jinzun has ideal waves in terms of size and shape and is thus a challenging premiere surfing spot. As a result, the international surfing competition hosted every November always attracts surfers from all over the world. The "Double World Championships" this year is definitely a must-see premiere surfing feast in your lifetime. You can look forward to surfers from all over the world showcasing their surfing techniques. Let's enjoy the surfing event that you cannot miss at Jinzun, Taitung. The registration dates start from October 30th  and the registration form can be found on the Facebook page.
Please go to the official website, Facebook page or Instagram for details about the event and the latest news.
Official website:www.taiwanopenofsurfing.org/
Facebook:https://www.facebook.com/taiwanopenofsurfing/
Instagram:https://www.instagram.com/taiwanopenofsurf/